Common App Essay Versions
Update: Read the latest tips for the 2017-18 Common App.
Earlier this month the Common Application introduced the first in a series of webinars focused on best practices and tips for completing the Common Application. Like all presentations in the series, the first webinar, titled "What to Expect in the 2015-2016 Common Application," was geared specifically for guidance counselors.  But why should guidance counselors have all the fun? We'd like prospective applicants and their parents to get in on the Common App action, too! Unless you're desperate to sit through a recorded webinar on the ins and outs of the revised 2015 Common App, allow the experts at College Coach to happily summarize the details for you.
1. Students must add their high school name (and CEEB code) before they can invite their guidance counselor and teachers to submit letters of recommendation. It's crucial that students select the correct high school in this process, especially if they attend a high school that uses Naviance eDocs to manage the paperless submission process. If students can't easily locate their high school in the list provided by the Common App, they should try using the school's CEEB code rather than the name lookup. When in doubt, ask a guidance counselor for help!
2. Students can change their FERPA (Family Educational Rights and Privacy Act) waiver selection prior to recommendation submissions. This is good news! If a student mistakenly selects that she "does not waive" her rights to review her teachers' recommendations, she will now be allowed to change it to "waive" before the application is submitted. And we always recommend students "waive" their rights to view letters of recommendation.
3. As we pointed out last year, the only way students could see a print preview of their app was to complete every single required component of the Common App. Now, a handy "Preview" button will be available on every page. Hooray! While the print preview is indeed printable, it's not a PDF that can be saved for future use.

4. We wrote an entire blog on this topic already, but in case you missed it, one essay (about describing a place where you are "perfectly content"), is no longer one of the five essay prompts. In its place, the Common App has added a question that will allow students to highlight their analytical thinking skills and intellectual curiosity. Here's the new question: Describe a problem you've solved or a problem you'd like to solve. It can be an intellectual challenge, a research query, an ethical dilemma – anything that is of personal importance, no matter the scale. Explain its significance to you and what steps you took or could be taken to identify a solution.
5. This wasn't a personal pet peeve of mine, but I can understand that some students felt stifled when they tried to copy and paste their personal statement into the small text box provided by last year's Common App. In the 2015 version, students will be able to click on an "Open Full Screen" button to preview their piece more effectively.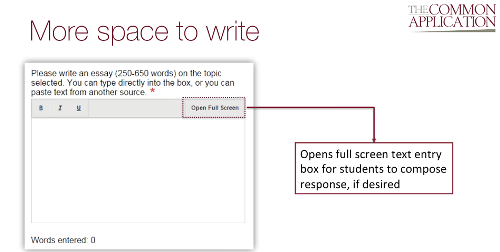 6. To expand college membership and improve access for college-bound students, the Common App no longer requires that its members include a personal statement as part of their application. Students, however, can still elect to submit a personal statement to those colleges who have made the essay an optional part of their admission process. To ensure that students are aware of the change, they must now check an "I understand" box on the "Writing" page of the application. The wording of the new rules is as follows: Some colleges require submission of the personal essay with your Common Application. You may submit a personal essay to any college, even if it is not required by that college. If not required by a college, you will be given the option during submission to include your essay or not for that college.
7. Fun! Fun! Fun! Like the rest of the Common Application, the main essay will become fully editable for all applicants at any time. No longer will students be limited to two edits (or a total of three essay versions). While the Common App does not advocate students creating new versions of their essay for each school to which they apply, they thankfully recognize that curtailing students' ability to alter their essay places undue stress on already anxious applicants!
8. There are three places on the Common App where students may be required to submit writing: on the "Writing" page (in the form of a personal statement); in a college-specific supplement under "Application;" or in a college-specific supplement under "Writing Supplement." (Now, that's not confusing at all, is it?) Last year students had a difficult time determining exactly which schools had additional essays or questions. Thankfully, the good folks at the Common App have come to the rescue. Applicants will now see a clear layout that illustrations the exact writing requirements for each school on their "My Colleges" tab.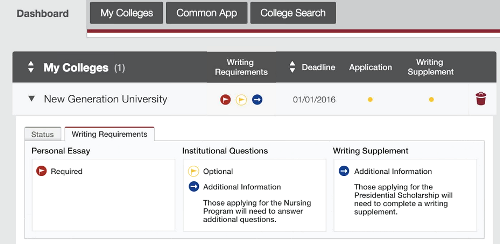 9. If you've taken (or plan to take) more than 10 AP exams, we have one good piece of news for you! You'll now be able to fit up to 15 scores on the "Testing" section of the Common App. (Last year, students could only list up to 10 AP scores.) From AP Art History to AP World History, the Common App has you covered.
10. And who doesn't love a truly happy ending? Common App tech support will now be made available to students 24/7/365. The new Solutions Center is "where you are, when you need it." Applicant chat will also be made available for those who enjoy receiving immediate feedback and troubleshooting support for all of their Common App needs. (Because really, who doesn't?)
Sometimes change is scary. Like when the College Board announces that they're revamping their infamous SAT to (effectively) compete with the more user-friendly and classroom-appropriate ACT. But in the case of changes to the 2015-16 Common App? We have to admit, we're pretty pleased! Stay tuned for more updates and tips for applying to college with the newest Common App, brought to you by your Common App experts.
Check out Elyse's other Common App articles:
Listen to Elyse's segments on the 2015-16 Common App on Getting In: A College Coach Conversation:
(Screenshot of the Common Application Web site)
(Correction: An earlier version of this post incorrectly suggested that Mills College was in danger of closing. Mills College says that is incorrect and it has been removed from the post.)
The college admissions season never actually starts and ends because it is always ongoing for one group of students or another. Even when high school seniors are learning where they have been accepted in the late spring and are deciding where they will go in the fall,  juniors are visiting campuses, taking the ACT or SAT, and making lists of where they will apply. In that spirit, this post looks at the changes — including essay prompts — coming to the Common Application, which was developed in 1975 to help reduce the number of separate applications and essays a student applying to numerous colleges and universities would have to complete. It is accepted by more than 500 colleges and universities, and used by more than 800,000 students.
While the idea behind the Common App was to make college admissions easier, many colleges still request additional information, including extra essays. The Common App is believed to have sparked an increase in the number of colleges to which high school seniors apply, in turn increasing the number of applications that many schools receive.
This post was written by Jeff Knox, a counselor at Prep Matters, a tutoring and test prep company with offices in Bethesda, Md., McLean, Va., and Washington D.C. Before joining Prep Matters, Knox worked in the University of Pittsburgh's Office of Admissions and Financial Aid and was a high school teacher.
By Jeff Knox
The Common App is under new leadership, and big changes are coming. Some changes are to satisfy its member colleges and some to please its applicant clients. Really, what's driving the changes is competition for all involved. Students just think about their own competition, but the colleges are in competition with each other for student applications, and the Common App is in competition too — with the Universal College Application in particular. All have something at stake, and the changes the Common App has announced are designed to please all of its constituencies. The question is: Will the Common App's aim to avoid "pointless friction" unintentionally create more questions and further mystify the admissions process for students?
New Essay Prompts
The biggest announced change that will affect college applicants is the unveiling of new essay prompts for 2015-16. After a nationwide survey of almost 6,000 school counselors, admissions professionals and students, the wording of prompts was adjusted and one prompt was entirely replaced. Here is the new line-up (with new language italicized):
Some students have a background, identity, interest, or talent that is so meaningful they believe their application would be incomplete without it.If this sounds like you, then please share your story.
The lessons we take from failure can be fundamental to later success.Recount an incident or time when you experienced failure. How did it affect you, and what did you learn from the experience?
Reflect on a time when you challenged a belief or idea. What prompted you to act? Would you make the same decision again?
Describe a problem you've solved or a problem you'd like to solve. It can be an intellectual challenge, a research query, an ethical dilemma-anything that is of personal importance, no matter the scale. Explain its significance to you and what steps you took or could be taken to identify a solution.
Discuss an accomplishment or event, formal or informal, that marked your transition from childhood to adulthood within your culture, community, or family.
Personally, I welcome these changes, but I think it's helpful to clarify the context in which the Common App essay is read. Application readers won't necessarily check which prompt is being addressed before reading an essay; they will just read it! In other words, the prompt a student chooses isn't terribly significant.
This may seem counterintuitive, but it's a reflection of the nature of the audience. Students have been conditioned to write for English teachers and AP exam graders and (rightly) obsess over "answering the prompt," but the audience that reads application essays are overworked admission professionals who more typically spend about three minutes reading each of your labor-intensive essays. These prompts are meant to guide or inspire the writer and are not meant to lead students to a particular message. The goal then is to build a compelling impression. Of course, the essays should be in line with the prompt that is chosen, but the principal goal is not to be tied to "answering" the prompt so much as it is to build an impression.
Formerly Required, Now Optional!
For the first time ever, colleges can choose to make the essay optional. That means it's possible a student may not need to write any essay and still enjoy the benefits of using the Common App. Now don't get too excited. The Common App will allow students to send an essay to any school, even if the school decides to remove the essay requirement. My advice is to always send an essay.
If you do a good job – which you will – it can only help because it will "humanize" your otherwise sterile college application. Additionally, the Common App will no longer require member institutions to accept a letter of recommendation. That will be the choice of each school. This is another effort to "[reduce barriers] to access." (My advice, however, is to follow each college's direction. If a school asks for one letter of recommendation, send only one.)
The interesting thing to watch for is which colleges and universities will actually go optional for essays and letters of recommendation. My prediction is that a school would make this decision for one of two reasons – either to play the "college numbers game" or out of sheer desperation.
Many schools play a numbers game in an effort to secure a loftier spot on ranking lists such as that of U.S. News & World Report. They do this by increasing application submissions, counting incomplete apps as complete, driving down acceptance rates, and bulking up yield, among other even slyer moves. By "reducing barriers," schools such as Northeastern University, can seduce more students into applying.
Technical Changes
More straightforward are changes to the print preview option and essay editing limits.
Applicants can now preview any part of the Common App, screen by screen, at any time. Before this year, students had to complete the entire Common App but wait for the submission stage before having a chance to preview the application as a whole. This will be a nice convenience and help students work efficiently, piece by piece.
Until this year, students could edit the Common App essay up to three times after the first submission. Now there is no such limitation. Students sometimes ask if they should tailor their essays – perhaps even creating up to three "batches" of schools with three unique essays. In my opinion, this encourages unnecessary work. Colleges and universities that want tailored essays will almost certainly request them via a supplemental essay, leaving the main essay available to delve into something authentic, personal, and worth sharing to any school to which you apply. Now if for some reason you're applying to schools with very different identities – for example, conservative Liberty University and liberal Oberlin College – then perhaps it would make sense to differentiate the essays, but the college list that includes such dramatically different kinds of schools is exceedingly rare. Generally speaking, a student need write only one essay for the Common App essay.
Behind the Scenes
Colleges and universities have to pay the Common App thousands of dollars a year to be members. Previously, members were incentivized to go exclusively with the Common App; if a school allowed students to apply using only the Common App, that school paid a reduced cost. Some schools, such as Wake Forest University, are members of the Common App and, in addition, offer their own application version. In the case of WFU, which has rolling early decision admission, the school must offer its own application because it accepts applications from students before August 1, which is the annual release date of the Common App. As of this year, schools that offer more than one application option to students will no longer be charged a higher rate.
Faced with more options, students have the burden of choice: to use the school application or the Common App if both are offered. Unless an application isn't available before a particular deadline (like the WFU situation), it does not matter which option a student chooses. It really doesn't. The Common App, however, makes applying more convenient since students can avoid repetitively filling out numerous lines of background information, such as their fathers' middle names. Even when more than one option is available, the Common App is usually the best way to go.
In conclusion
Keep things in perspective. The larger game and its inherent strategies remain the same. However, it is important to understand why these changes are being made so as to avoid adding any needless stress in what's supposed to be an exciting process.